THE ULTIMATE GRILLER
When: Sunday, September 9
Which team will take home the Ultimate Griller title this year? Invite friends, neighbors, and family to come out and enjoy an evening of heated competition, food, fellowship, bouncy houses, and more!
Please bring a side or dessert to contribute to the meal.
Family Directory Photos
If you have an interest in helping, please contact Kristi Cressman. (260) 334-5451
When: September 13, 14, and 15
You are part of our family and we need you to complete our new church family directory! Our church family directory is a resource that will connect the families of West Missionary. Each family will be displayed and contact information will be provided. A free professional photography session is offered to each participating family and a complimentary directory.
Visit www.ucdir.com and call the church office for the online code and password. Thank you!
FISH AND TENDERLOIN FRY
(ALL YOU CAN EAT)
When: Saturday, October 6
Where:
WMC Activity Center
It's back! The ALL YOU CAN EAT Fish and Tenderloin Youth Fundraiser! This meal surpasses one's expectations when it comes to a ticket purchased meal. You won't want to miss this community favorite event!
Child Tickets (ages 6-12): $6
Sides include: Cheesy potatoes, applesauce, green beans, and Wick's Pie!
Acquire your ticket through the youth or contact Youth Pastor Josh Maller.
MISSIONS TRIP FUNDRAISER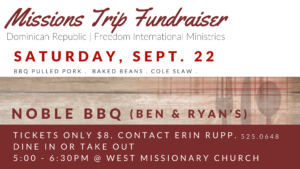 When: Saturday, September 22
We invite you to support the missions trip to the Dominican Republic by purchasing tickets for a delicious meal prepared by Noble BBQ (Ben & Ryan's).
Tickets are $8.00 each and the meal consists of pulled pork, baked beans, and coleslaw.
Feel free to dine in the gym or take it with you on Saturday, September 22, from 5:00 – 6:30 PM